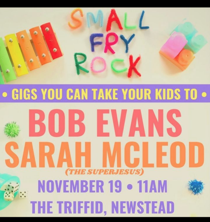 Attention Brissy fans
Not long now til I'm up your way playing a Small Fry Rock show at The Triffid for kids both big and little to attend! Also get to hang with Sarah McLeod which is a lovely bonus.
I will be bringing along my beautiful merch range which come in sizes to fit the big kids and the little ones!
This is an unbelievable opportunity to fashion co-ordinate as a family in gear you can't buy down the shops.
Anyway, still some tickets left so hit up the link below -
https://moshtix.com.au/v2/event/small-fry-rock-feat-bob-evans-sarah-mcleod-the-superjesus/144413
XXX BOB XXX